Outline of the Pacific Islands Leaders Meeting

(1) Meeting Dates
May 25 (Fri) - May 26 (Sat), 2012
(2) Venue
Okinawa Prefecture
(Summit Meeting in Nago City, Related Events in Miyakojima City, Onna Village, Naha City)
(3) History and Purpose
A summit-level meeting sponsored by the Government of Japan, the PALM provides a forum for Japan, the Pacific island countries and other related countries to address the various issues faced by island nations in the Pacific, thereby promoting stability and prosperity in the Pacific region.
The first PALM was held in January 1997 among Japan and the member nations and regions of the South Pacific Forum*. Since, the PALM has been held once every three years, for a total of five meetings to date.
Selection of Okinawa as the venue of PALM6 was finalized at the Ministerial Interim Meeting held in October 2010 for follow up of the outcomes of PALM5 and preparations for PALM6 (Chaired by the then Foreign Affairs Minister Seiji Maehara).
* The South Pacific Forum changed its name to the Pacific Islands Forum in November 2000.
PALM Dates and Locations

January 1997
PALM1 in Tokyo, hosted by the then Prime Minister Ryutaro Hashimoto
April 2000
PALM2 in Miyazaki, hosted by the then Prime Minister Yoshiro Mori
May 2003
PALM3 in Okinawa, hosted by the then Prime Minister Junichiro Koizumi
May 2006
PALM4 in Okinawa, hosted by the then Prime Minister Junichiro Koizumi
May 2009
PALM5 in Hokkaido, hosted by the then Prime Minister Taro Aso
May 2012
PALM6 in Okinawa, hosted by Prime Minister Yoshihiko Noda
(4) Co-chairs
Japan, Cook Islands
(5) Participant Countries (Anticipated)
Japan, 13 Pacific Island nations and one region (*Note 1), Australia, New Zealand, United States of America (Total of 17 countries and 1 region)
(*Note 1) 13 countries:
Cook Islands, Republic of Fiji, Republic of Kiribati, Republic of the Marshall
Islands, Federated States of Micronesia, Republic of Nauru, Republic of Palau,
Independent State of Papua New Guinea, Independent State of Samoa,
Solomon Islands, Kingdom of Tonga, Tuvalu, Republic of Vanuatu
1 region:
Niue
(*Note 2) In December 2011, the United States of America have confirmed its participation in PALM6.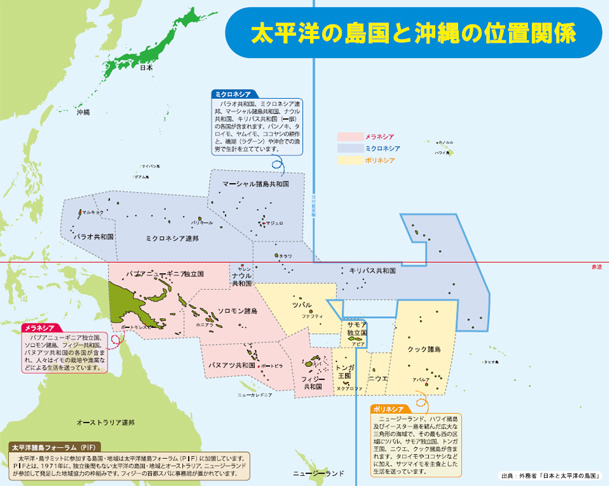 (6) Unique Characteristics of the Pacific Island Nations
The island nations of the Pacific are divided into three regions: Micronesia, Melanesia and Polynesia. Each region has its own unique, rich culture which is reflective of their respective histories.
Micronesia (meaning: small islands)
Palau, the Federated States of Micronesia and the Marshall Islands have once been governed by Japan, and traces of Japanese words and culture are still found today. Many people of Japanese descent are active in these countries.
Republic of Palau Seventy Island
Melanesia (meaning: black islands)
With many volcanic islands and tropical rainforests, Melanesia is blessed with forest and mineral resources. With over 1000 language groups giving rise to many varied cultures, the region is noted for the strong sense of unity within each tribe.
A Fijian sugar factory (Lautoka)
Polynesia (meaning: many islands)
Along with its reputation for producing skilled seafarers, Polynesia is also known for its rich musical and artistic traditions fostered by the kings and nobility of the region, the Hula being the most well known.
Samoan buses are colorful